THE LANDSCAPE AS A COMPOSITIONAL ELEMENT
Elevated on a privileged location, the long façade runs through the gardens of the old Turia riverbed, enjoying the green tops of the trees that populate the wide meander. Overturning the main spaces of the dwelling to the vibrant spectacle of the sunset over the city of Valencia becomes the premise of the design. The penthouse is configured, consequently, as a great viewpoint…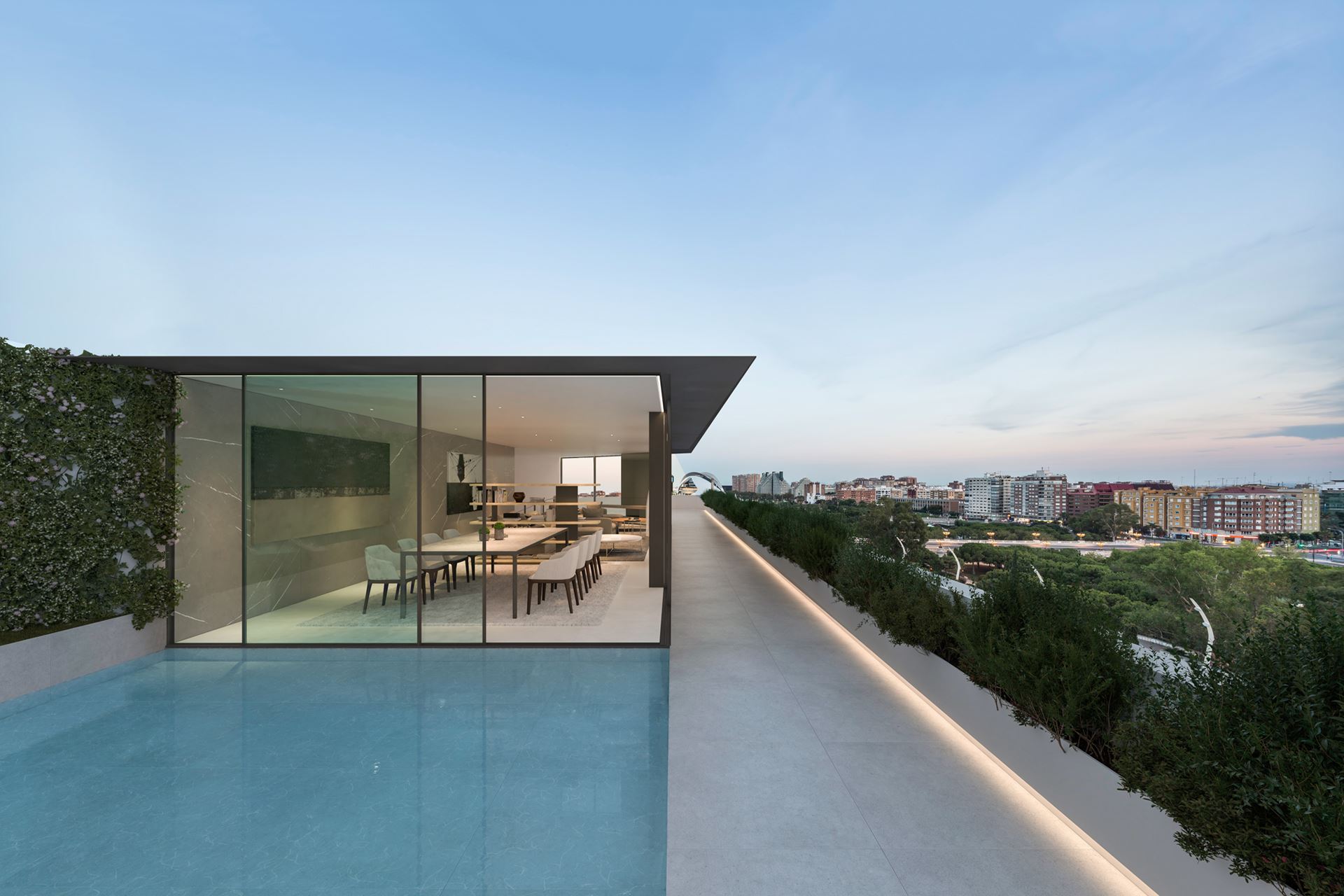 TERRACE
The location, in front of the great green ribbon of the river, gives an interesting background perspective achieving a sensation of great viewpoint. The upper terrace, enjoying wonderful views over Valencia, is therefore a great opportunity for this penthouse design.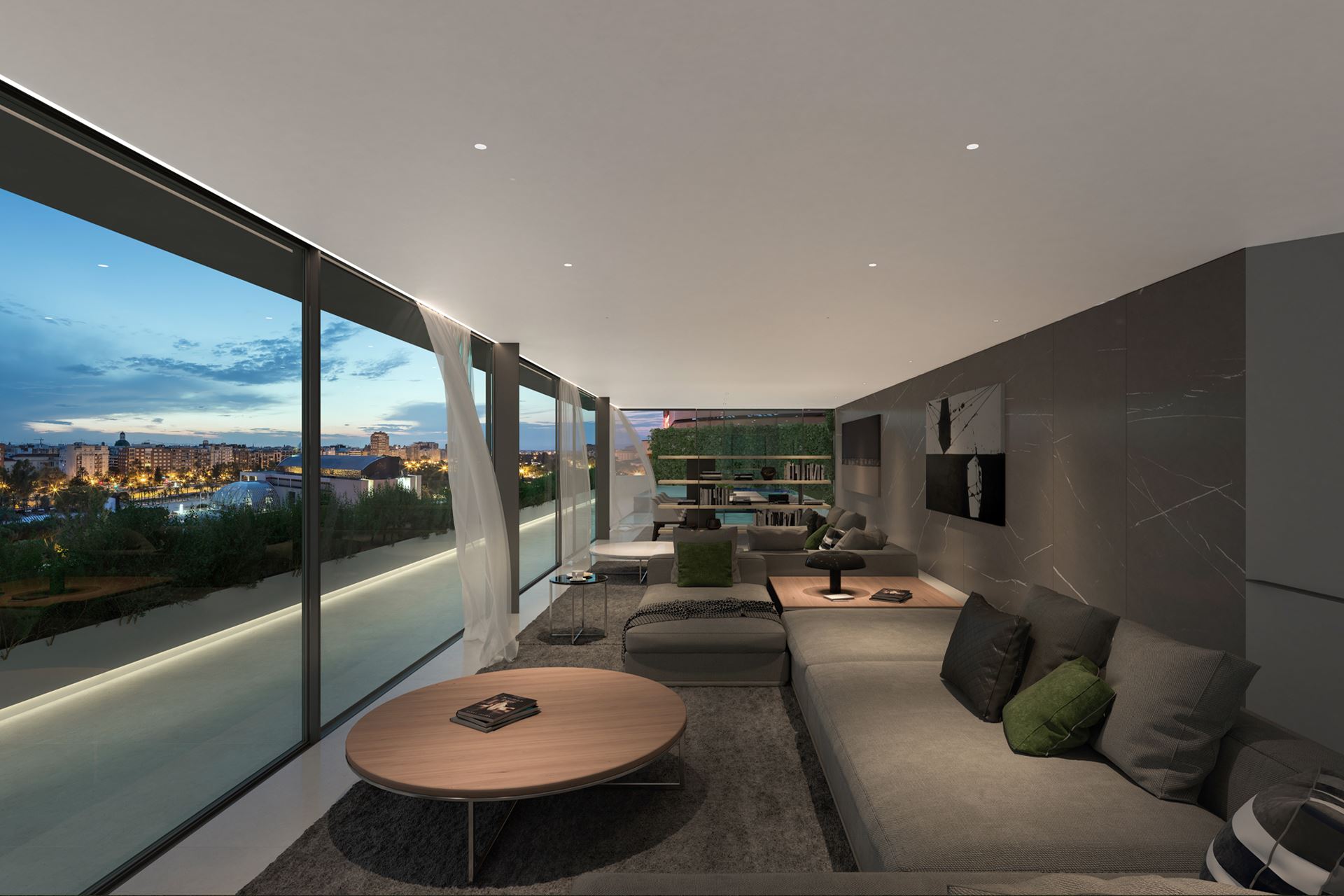 The project clearly distinguishes two areas, the lower one adopts a more elegant character, housing the entire program of the house, and on the upper floor a contemporary pavilion is conceived surrounded by the terrace and swimming pool.  This duality adds value to the house.
Both floors are connected by a staircase that runs through the double height. Above it, a skylight fills both floors with light and generates a pleasant sensation as you walk through the space.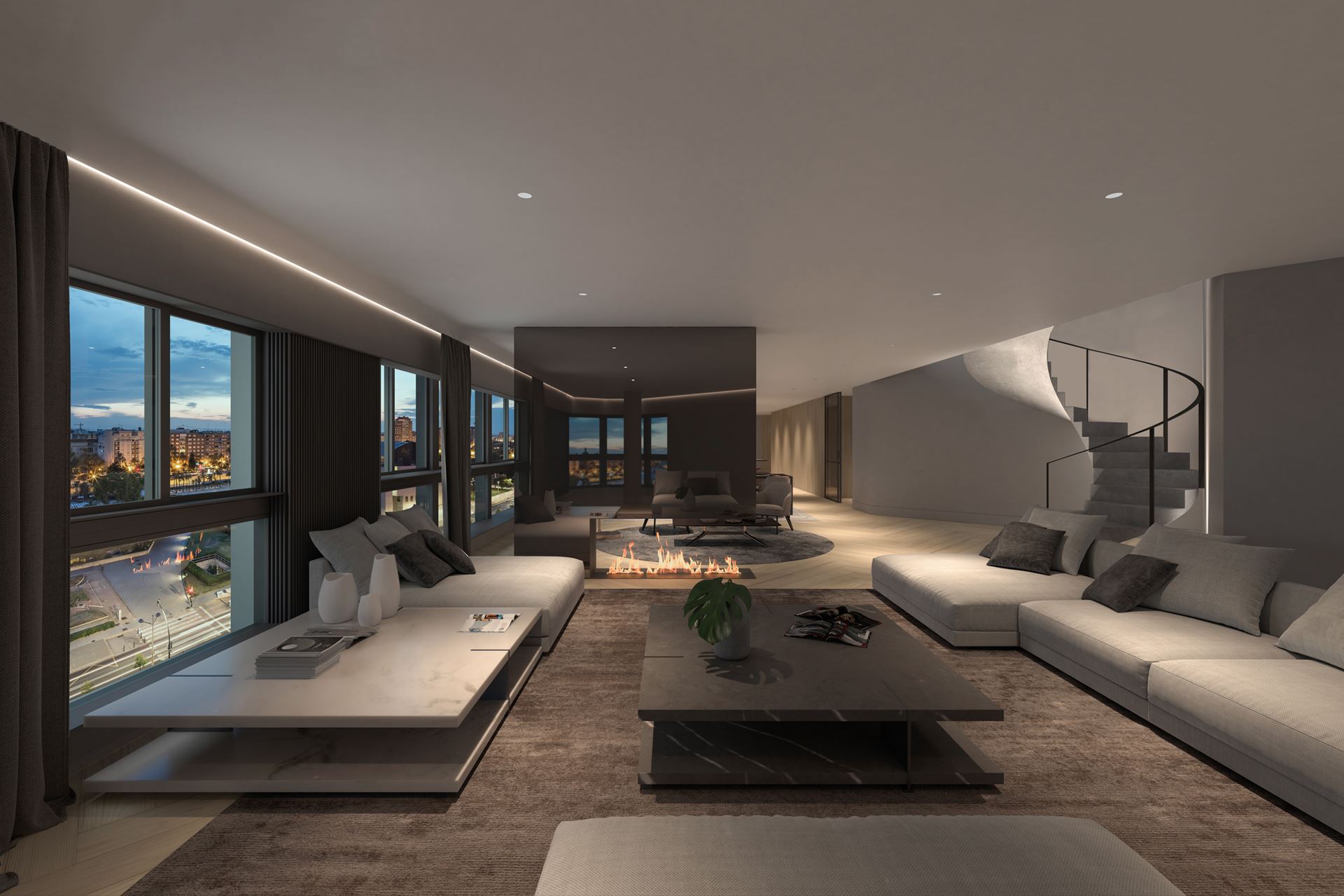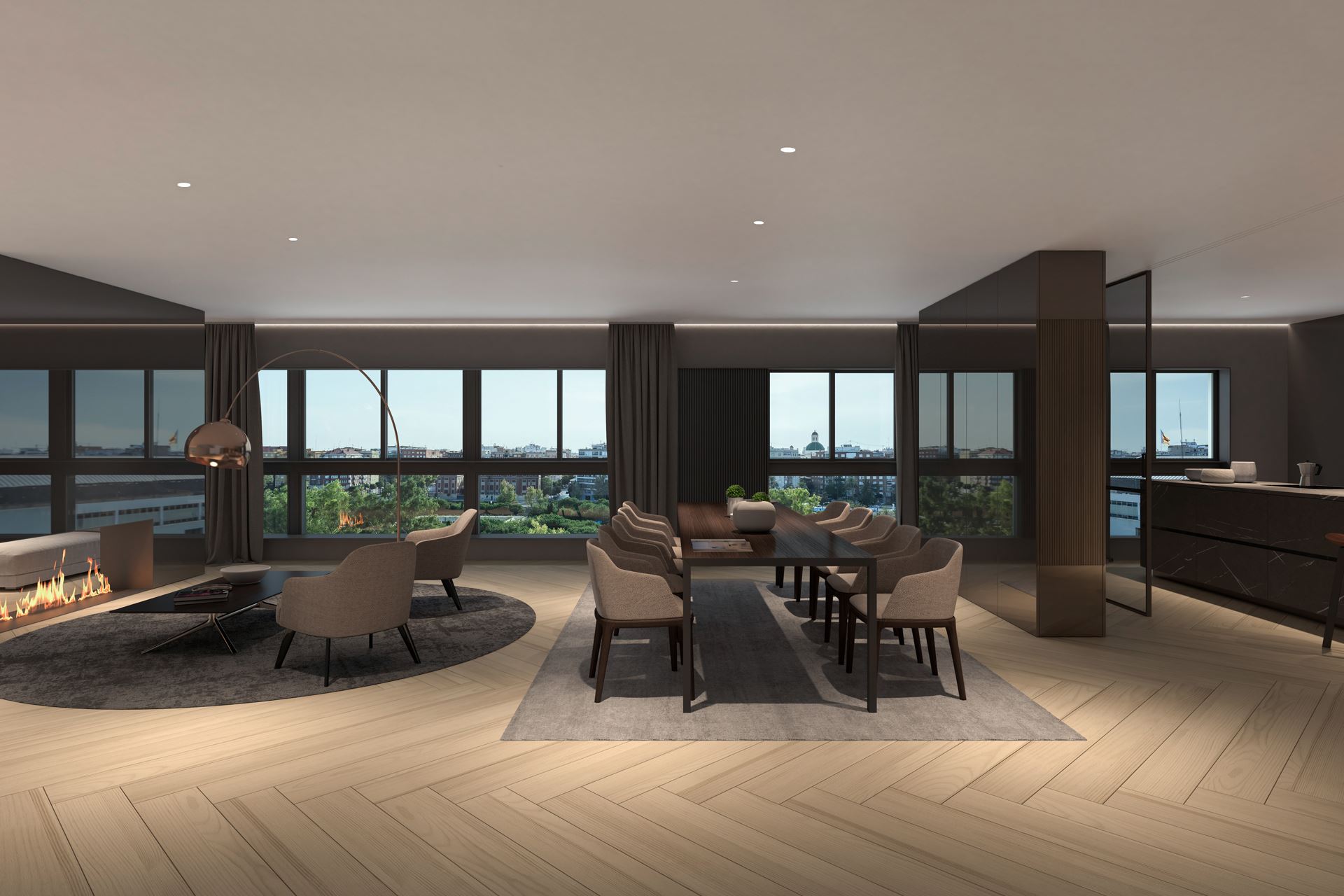 SWIMMING POOL AND VIEWS
The pavilion, conceived as a thin sheet that casts a shadow under which the dwelling design is developed, is prolonged by the shallow reflecting pool and the swimming pool. From this space of the penthouse you can enjoy panoramic views of the entire Valencia and the riverbed in front of the Palau de la Musica.
The daytime space is completely diaphanous, but with three different uses, from the kitchen, dining room and living room. The spaciousness of the dining room allows for a reading area in front of the fireplace, a space where you can enjoy a drink after dinner.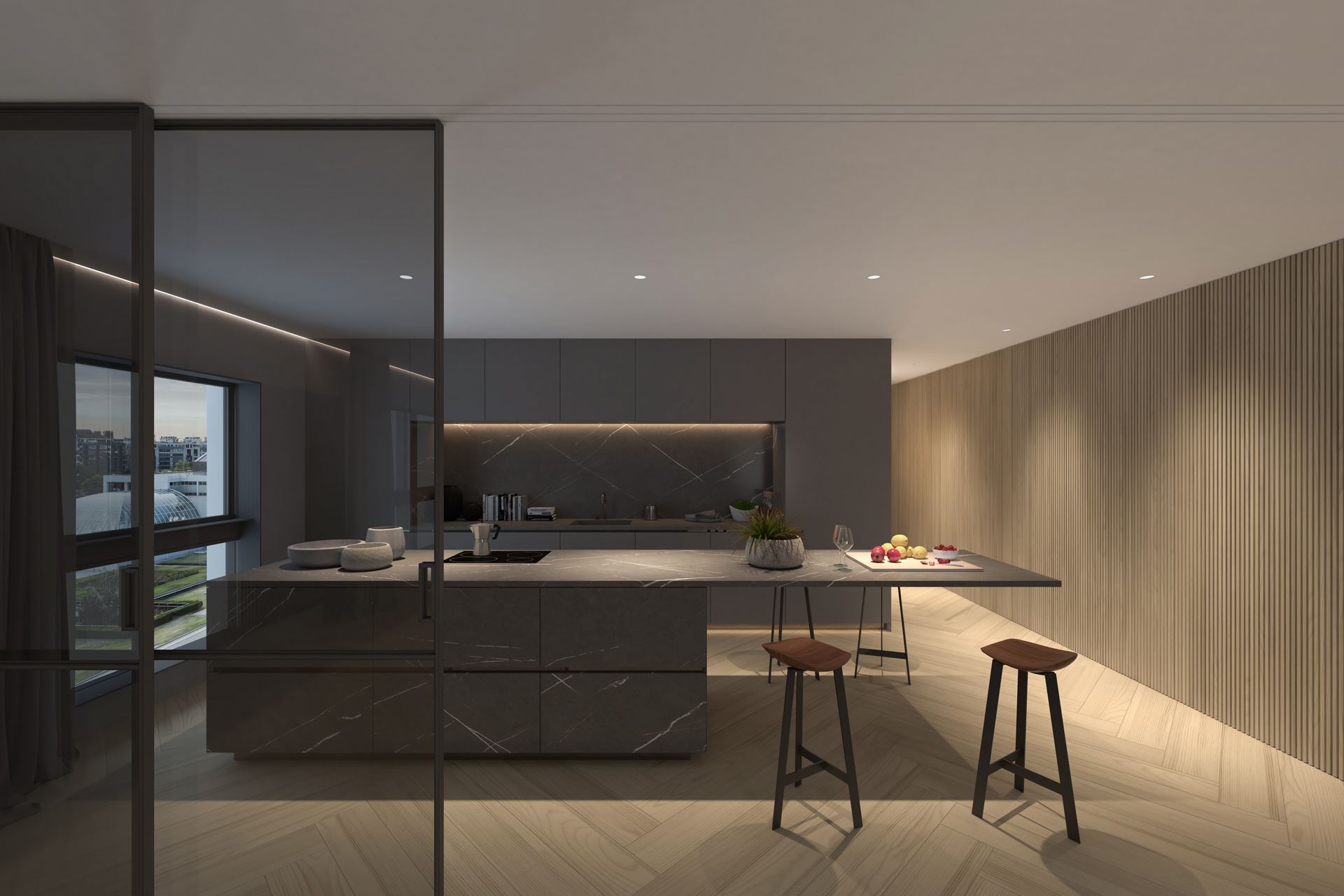 MASTER BEDROOM
The master bedroom adopts a unique character, as a suite with an integrated dressing room. A freestanding bathtub in front of the incredible views enhances the feeling of harmony and relaxation. All furniture is designed to achieve this ambience.