THE SPACE BETWEEN TWO PLANES
The tension between two light parallel planes that slide together, capable of containing the living spaces define the design of this house in La Eliana, Valencia. Its shadow cast as the minimum expression of shelter. Some spaces where diaphanousness is reached by eliminating the interior limits and reconfiguring them by means of the projection of the flown surface. Slides that occur in the horizontal planes and in the vertical planes that protrude from the shelter of the upper plane.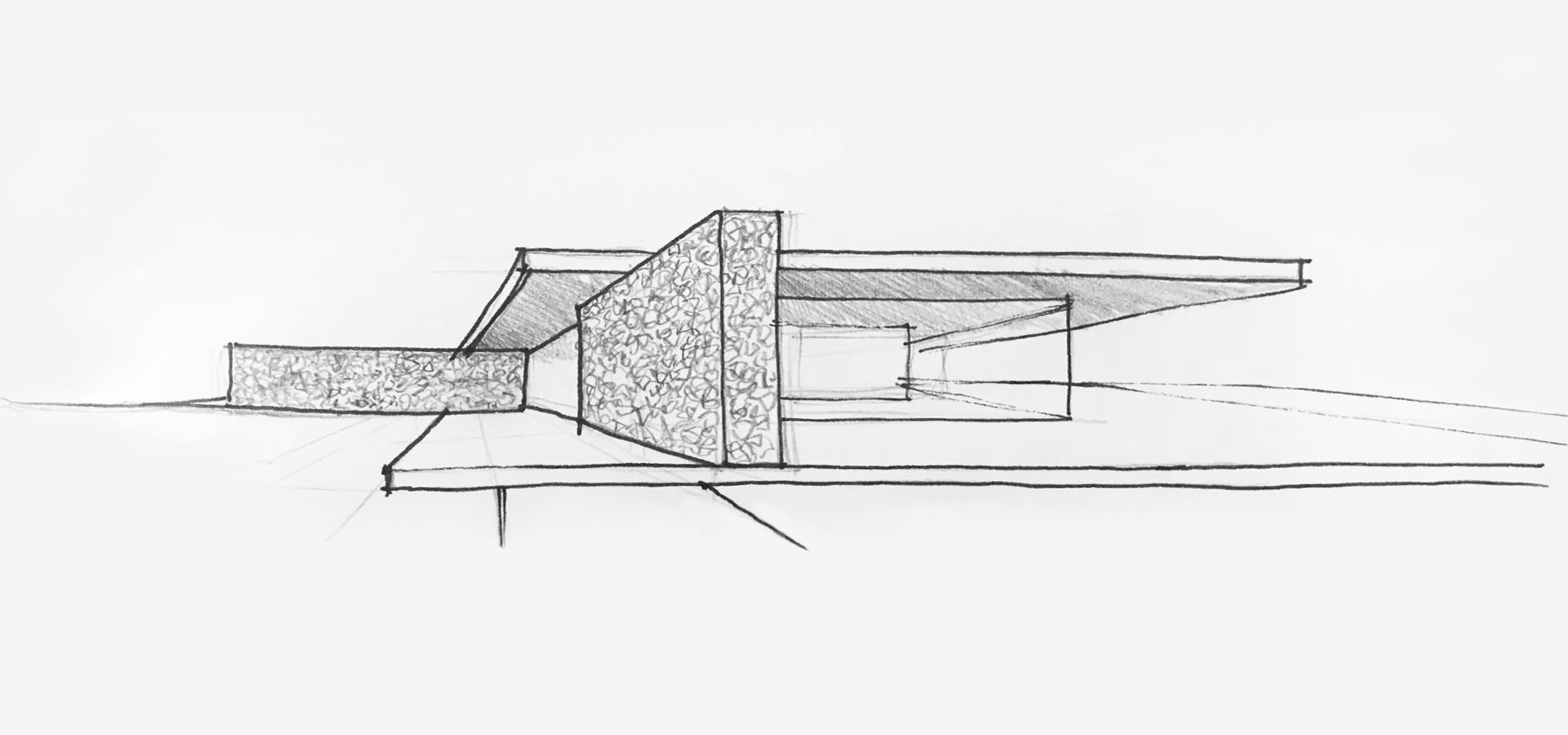 THE INTERSECTION OF THE BODIES
Two different areas are configured to accommodate day and night spaces. To the south, the day zone dynamites the limits between interior and exterior, extolling the glass box as a form of fluid relationship with the surrounding landscaped environment. Towards the north, a body with a solidly stony appearance emerges from between the two horizontal planes and shelters the most private part of the programme.
At the intersection between the two volumes are the distribution and service spaces around a central courtyard. An open void in the twin that is capable of articulating not only the different programmatic relationships but also the slight unevennesses that occur inside this house design in La Eliana, in Valencia.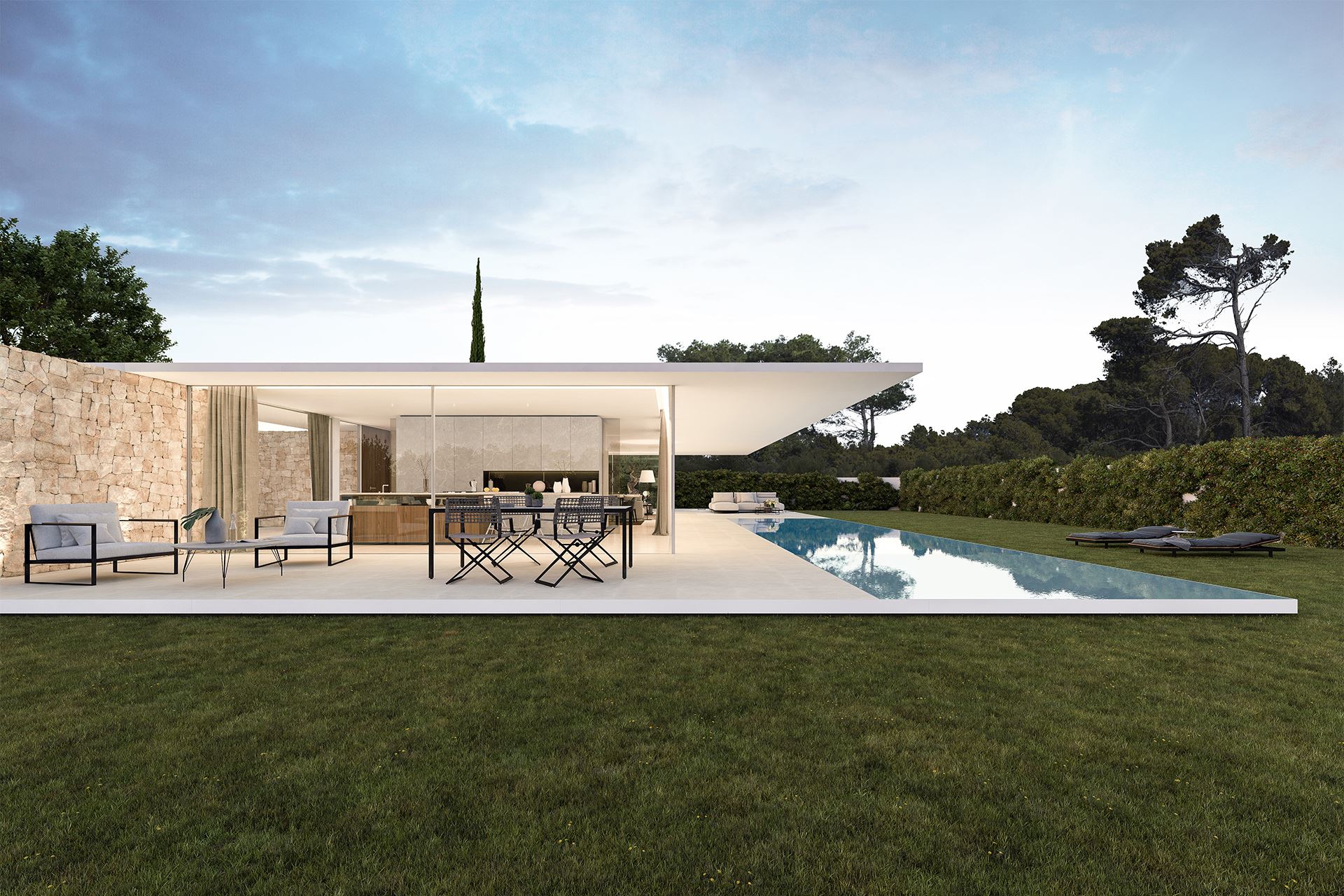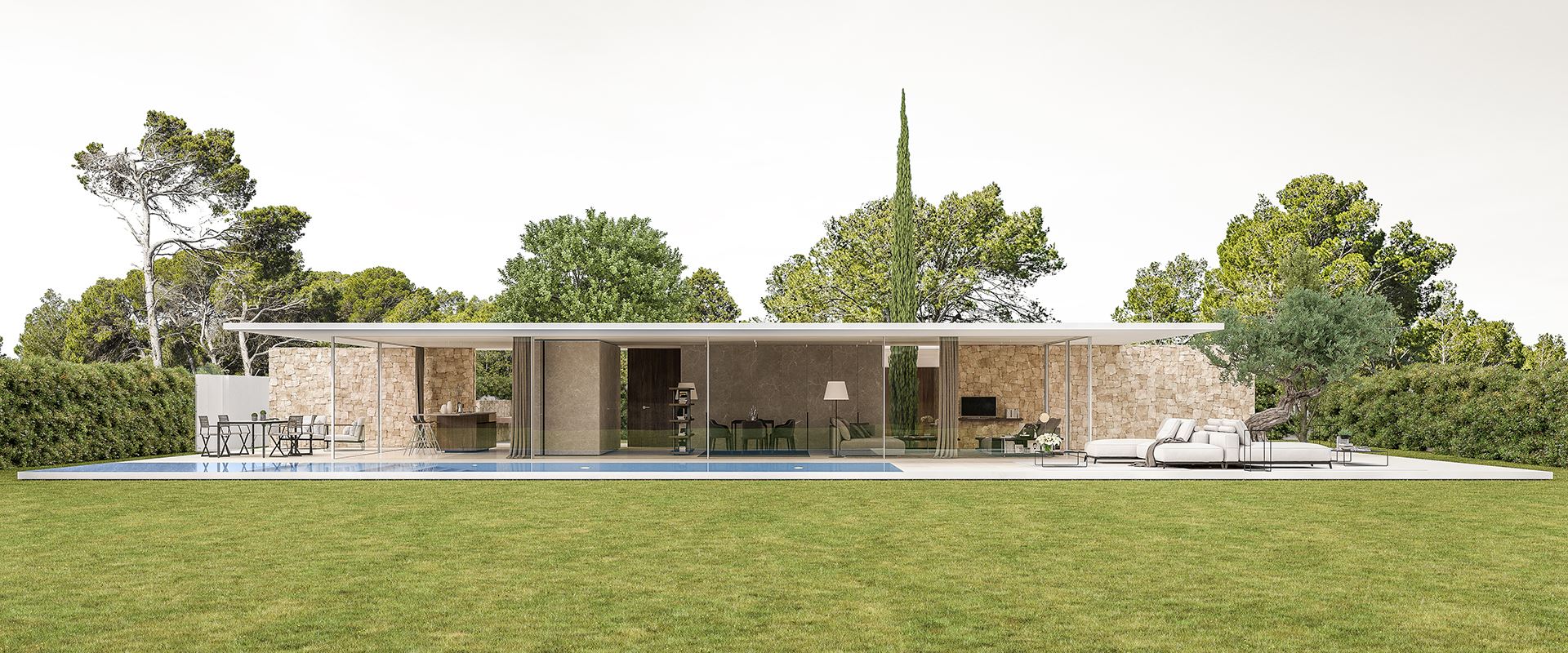 TANGENT PATHS
The intersection between the two volumes is materialised by means of powerful dry masonry walls that extend beyond the limits of architecture and take root in the landscape. Tangents to them run the routes of access to the dwelling and of interior distribution, with the strong presence of the stone accompanying the trajectory in its advance towards the interior.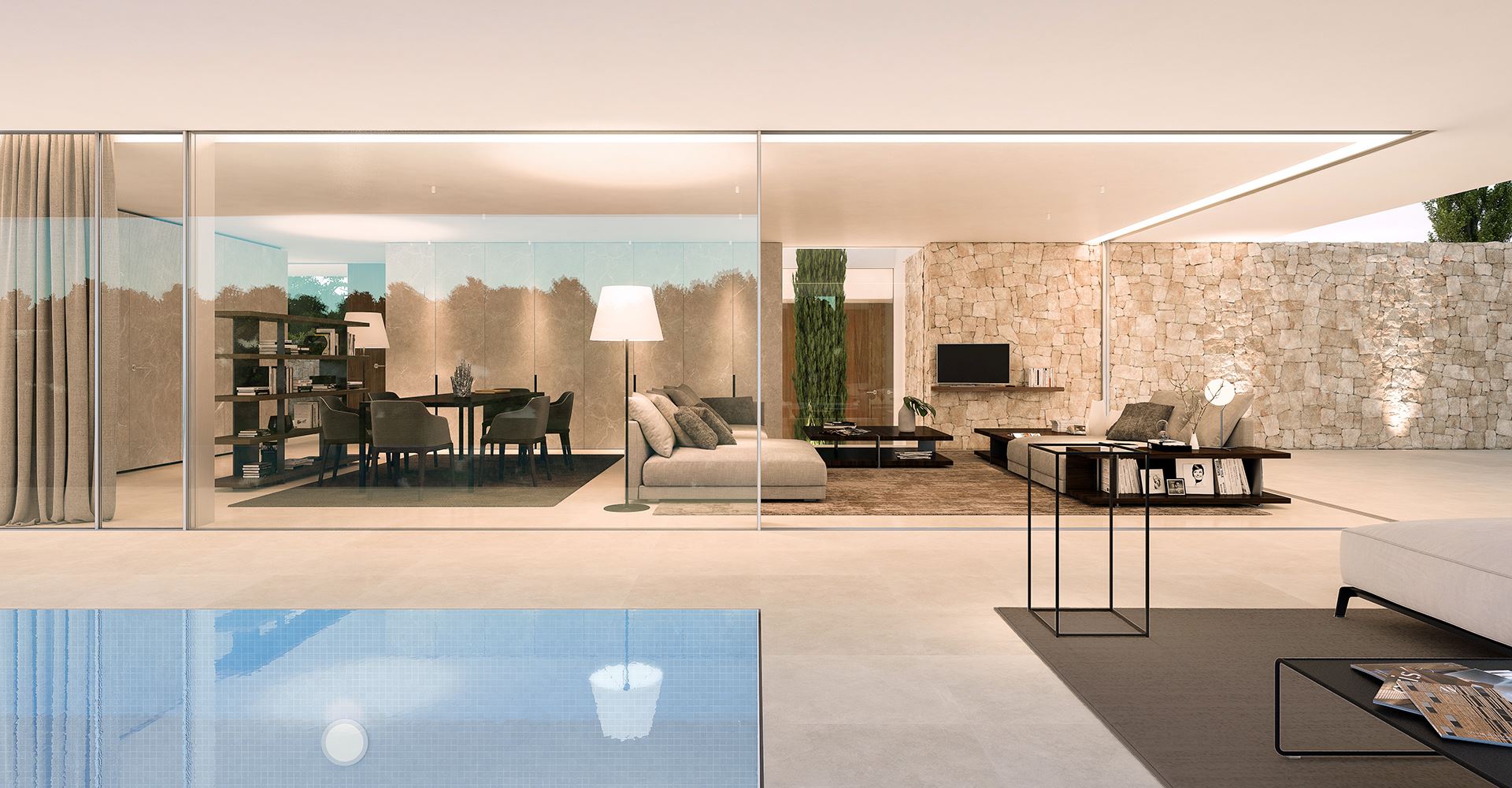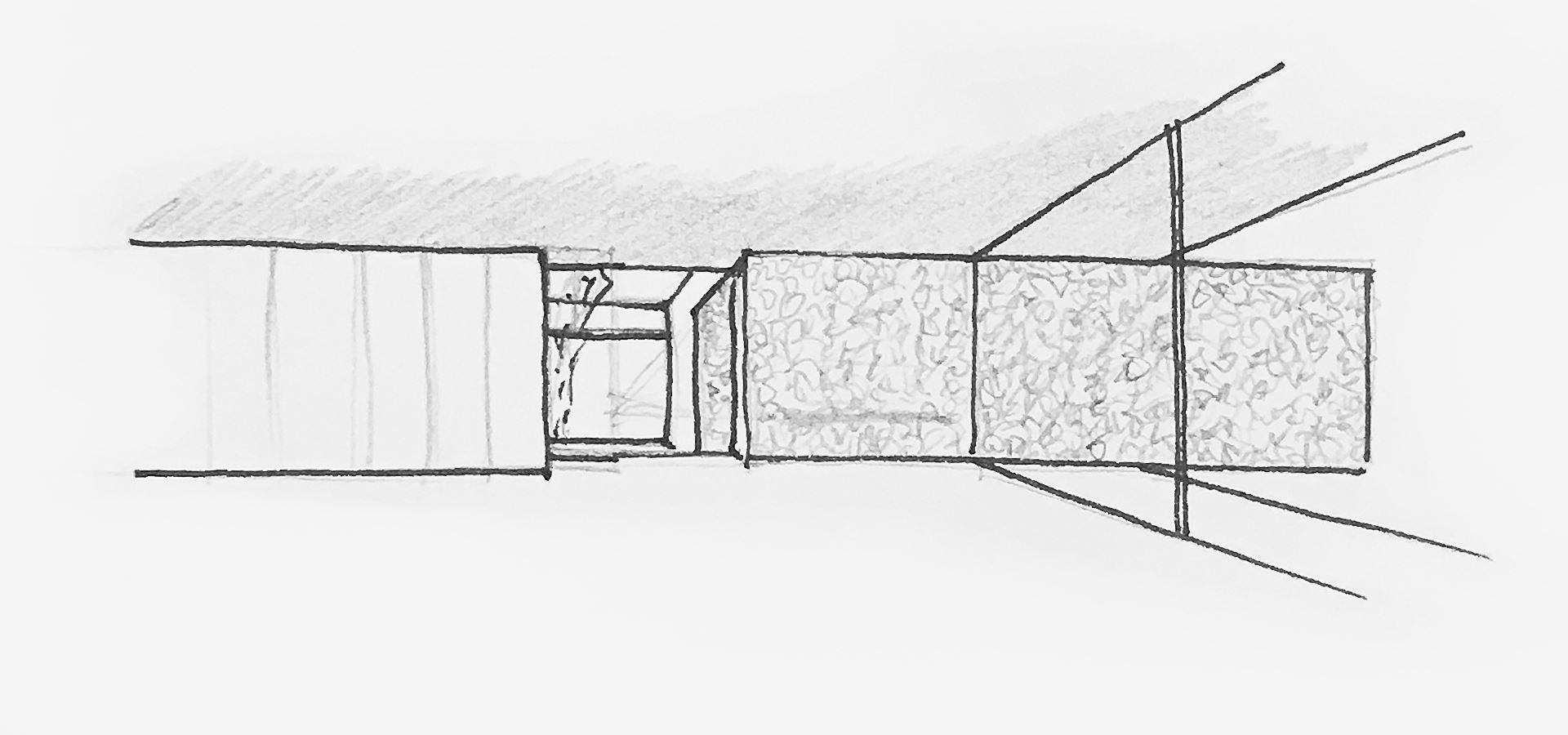 THE WARMTH OF THE ATMOSPHERES
The resounding texturing of the vertical elements contrasts with the lightness of the horizontal flat whites that delimit them. A materiality that combines the sturdiness of the masonry with the elegance of the limestone veinage or the warmth of the noble woods. This is combined with a study of furniture and lighting as a means of achieving the sensation of recollection and interior comfort desirable in the domestic environment.

THE SUBTLE INTEGRATION OF THE LANDSCAPE
The relationship of the architectural pieces with their landscaped environment is achieved through delicate operations in contact with the terrain and between the different planes. Subtle gestures of relation with the environment manage to transmit, with a marked shadow, the sensation of a stone box levitating on the surface of grass that passes continuously under the built volume. Or strategic recesses in the support of the lower plane that integrates in its perimeter the surface of water of the swimming pool. A flush pool that at the same time configures the southern limit of the architecture, taking advantage of the suitability of its orientation.